Houndsmen Deluxe model, with top storage, is insulated, has carpet in the storage, handles, o-rings, and door covers. The base model is not shown.
This box is our most popular and is available in:
Large Truck Models
46 WIDE x 46L, 44L, 40L, 36L
Small Truck Models
38WIDE x 46L 44L, 40L, 36L
Standard top storage boxes have 17 3/8" headroom, extra tall have 21 3/8". Underdrawers have 20 3/8" and flat tops have 21 3/8".
Life Saver Dog Houses
A DOG'S HOUSE IS HIS HOME . . .
All too often hunters concentrate on buying the best dog they can afford, provide good veterinarian and medical care, and feed the best diet obtainable . . . but they forget one of the most important ingredients for full dog performance and welfare . . . the housing.
We designed our house so that it can be shipped in pre-constructed panels (sides, front and back, lid and bottom) These assemble into pre-drilled aluminum corners. Assembly is simple with provided screws. This option allows for economical UPS delivery on all cube houses, directly to your home. For those sort on time or tools, we are glad to ship the houses already assembled on a common carrier, at competitive rates. Please call for details.
(THIS IS A CUBE HOUSE-HAS NO DIVIDER)

Small Cube... $225.00
Medium Cube... $250.00
Dimensions: 32W x 30L x 22-24H
For dogs to 75#
(Approx 29 x 28 interior)
Large Cube... $275.00
38W x 30L x 22-24H
For dogs 75#-90#
(Approx 36 x 28 interior)-$209 house only
Divider House... $300.00
Specifications: Double wall construction, .030 gauge smooth aluminum painted outer skin, 3 mill lauan interior and exterior sheathing, insulated with 3/4" foamboard, 1/2" plywood floor, support arm bracket to hold lid up, door opening 11 3/4"W x 13" H. The houses come standard with aluminum double swing door flap. This is a simple aluminum flap made from the same material as the outside of the house, on a double swing hinge at the top of the door opening.
Dog Kennels-Safe and Secure Pet Containment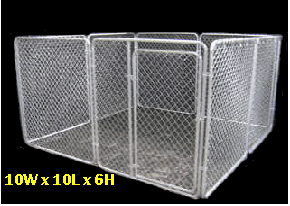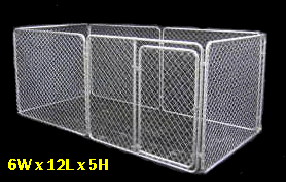 Chain Link is the most widely used and economical fencing material made. It is used by more veterinarians, animal rescues, boarding kennels, Police K-9 units, and home owners than all other fencing material combined. Our 6 foot high modular dog kennel system contains your larger dogs and provides your pet with secure containment on your property while keeping them safe from other animals that may enter your property.